(beauty & the geek results below)
.
.
.
.
.
so, the geeks have to try and get ladies' phone numbers (again), but this time they have furry accomplices (uh, dogs). this challenge was pretty lame and contrived and whatever, nate wins by usurping mario's leftovers.
way to go, nate. (
fake geek
, what?!)
then the ladies have to create doghouses* and cecille pulls a
"mr. boston"
and meanders through the challenge like a monkey on qualudes.
will someone PLEASE
pull a ripsi
on cecille already?
so anyway, megan/scooter are safe along with nate/cecille, which defaults nadia/mario and niels/jennylee into the elimination round.
noooooooooooooooo.
this is not going to end well.
jennylee and nate decide that it's now or never if they are going to make out and no one is the least bit surprised when they do. except, maybe, nate. [insert eye roll here]

anyway, both teams put up a valiant fight, but in the end mario narrowly misses a really questionable question and he and nadia are sent packin'.
i cry.
goodbye nadio. so long maridia. ye shall be missed.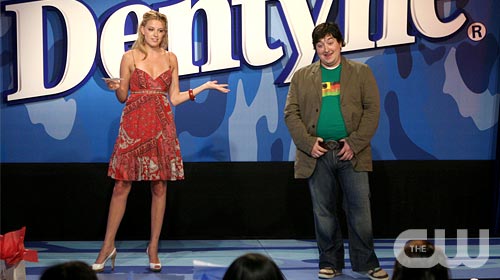 * it must be reality show build-a-doghouse-week